TONGZHOU professional cylinders manufacturer
Fujian TONGZHOU Machinery Co., Ltd. Located in Quanzhou, Fujian Province. We are a modern engineering machinery hydraulic excavator cylinders for sale product company integrating R&D, manufacturing and sales. The company owns hydraulic cylinder production line and more than 30 new equipment, of which more than 95% are CNC machine tools. In additional, we have various types of horizontal medium frequency thermal refining lines and horizontal medium frequency surface hardening lines, imported scrapers, deep hole milling machines, high-precision cylindrical grinders, CNC automatic welding machines, imported automatic friction welding machines, automatic cleaning machines, nickel chromium automatic electroplating lines, automatic assembly lines and automatic printing and brushing lines, etc. Absolutely, we own special manufacturing and processing capacity for various oil cylinders.
TONGZHOU Leads you to know about excavator
There are two main ways to talk about excavators. Firstly, it is any kind of machine for digging, moving and lifting dirt. This is a more general type of reference that can cover everything from augers to drills to excavators. Secondly, and more common "diggers" or "JCBs" refer to a piece of equipment as excavator.
In additional, insiders would seperate the excavators into some types.
Long distance excavators – are ideal for digging deep trenches or in areas that are slightly farther than the safe location of the machine.
Small excavators (diggers) – are very suitable for excavation in small or residential areas, as well as for laying electric wires, landscaping, sidewalk or swimming pool construction and other projects. If you need precise excavation, the mini excavator is a very good field equipment. If necessary, you can rent several small excavators instead of one large excavator to speed up the project.
Referring to diggers' application, we have to think about something. Although excavators and diggers are primarily equipped with bucket connected to their boom ends. However diggers, we know, can be equipped with augers, drills, or one of various bucket types through hydraulic cylinder. Thumb attachments buckets, buckets for rock, tilt angled buckets, or even trenching buckets are a small subset of the many different attachments and bucket types of digger.
By understanding the types and uses of excavators, we can learn more about excavator arm hydraulic cylinder. Often, the selection of excavator thumb hydraulic cylinder or multi stage hydraulic cylinder are based on different excavator sizes and uses.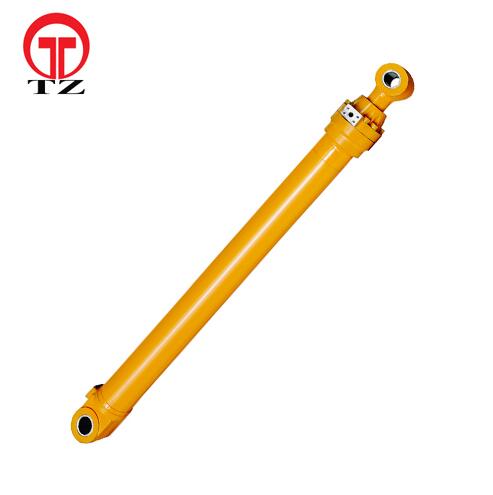 Typical cylinders found in excavators
The power of the hydraulic cylinder comes from the incompressible pressurized hydraulic fluid. Menawhile, oil is usually used as hydraulic oil. The hydraulic cylinder consists of a cylinder barrel in which the piston connected to the piston rod moves forward and backward. One end of the piston barrel is closed by the bottom of the cylinder (cap). And the another end is closed by the cylinder head (gland). The piston rod comes out of the cylinder.
Hereby, We will list some excavator cylinders for sale below:
The bucket cylinder allows the bucket or any other attachment that is mounted on the quick coupler to move.
The boom cylinder and hydraulic arm cylinder parts allow digging movement through the control device and determines the ideal position of the boom cylinder according to the type of work to be performed.
The purpose of the lift cylinders is to allow the arm to move and verify the machine's efforts when lifting materials.
The materials of cylinders TONGZHOU made
Hydraulic cylinders we produce, always keep it prime quality. Meanwhile, for each spare parts of cyclinder, we will provide branded parts or made it through good materials. Certainly, we also supply marine loading arm hydraulic cylinder, except cylinders for excavators. Normally, the cylinder is composed of so many parts. (e.g. Bushing spindle ring, Dust ring, Cover seal, Buffer seal, Bush, Cylinder rod, Piston seal, Anti-wear ring, Rod head, Piston, etc). List materials we uses below:
For main materials normally we adapt stainless steel : 303, 304, 316, 412,201,202 etc; Steel: Carbon steel/ die steel, C.R.S etc.
Certainly, surface treatment will be through anodizing, polishing, powder-coating, passivation, sandblasting, nickal plating, zinc plating, Chrome-plating, heat treatment.
TONGZHOU excavator cylinders for sale save your money through International shipping
TONGZHOU machinery ships excavator arm cylinder parts across the globe daily, throughout the Asia, Middle-east, Europe and Afrcia. We offer fast worldwide shipping to our customers. In meantime, we ship all major excavator components and parts, such as 2 stage hydraulic cylinder and telescopic hydraulic cylinder, 3 stage hydraulic cylinder, excavator thumb cylinder, 2 way hydraulic cylinder, etc.
Actually, shipping will costs vary, but we guarantee you the best rates available. We ship in bulk for cylinders and large quantitiy of spare parts, and we receive discounted rates. We also shop around to save you money on shipment. For our domestic customers, we pay all customs or transportation fees. Certianly, we also provide quality equipment and spare parts to international customers on a regular basis. Do not hesitate to contact TONGZHOU. This is good idead to save money on excavator parts around the world.