The excavator consists of a hydraulic boom cylinder, bucket, a digger with undercarriage. These components are connected to the cab located on the rotating house. Most excavator cabs can be rotated 360 degrees to improve visibility. Depending on the manufacturer and the nature of the project, the excavator can be equipped with tracks or wheels. Excavators come in various sizes and grades, weighing up to 180,000 pounds. The excavator has many other accessories that can replace the digging bucket to diversify the machine. Excavators can be used for many different jobs by replacing buckets through augers, drills, rippers, or rakes.
How to choose right excavators as you need
The excavator needs to complete the work, which is the primary standard for selecting a suitable excavator. To ensure that you have sufficient power to operate, check the hydraulic system and test options for the next excavator. Many people will list the functions of their system and notice what can be done during the whole workday due to this function.
A more powerful hydraulic system can improve your efficiency and productivity, because you can match the power required, but performance also includes the best support for work. When making a choice, consider all the work the excavator needs to perform. The two main support options to consider are the excavator's zero tail swing or zero frame swing function. These configurations allow your operator to work in a safe manner near excavations, walls, and other obstacles.
Size of excavators also is the factor to effect your choice of excavators and diggers. Consider the following top types of excavators:
Standard size
– Excavators larger than 10 tons and smaller than 45 tons are standard names. These are the most versatile excavators, which can work well in almost any space and are suitable for most types of work. They have great power, so they will be very heavy, and will cause a little damage to the land it must pass through. You need enough space, but they are sturdy and easy to transport.
MINI size
– These small excavators are usually the easiest to move. They weigh from 2100 pounds to 10 tons. The mini type is preferred for small work and work with tight space requirements, such as work that needs to move around buildings or work in areas where many lines pass through the ground. They require the least power, but they also cause the least damage to yards, roads and sidewalks.
Large size
– Excavators can reach 95 tons, and these behemoths belong to a large category. These machines are pure industrial machines. You won't see them in the urban environment or the environment with many slopes around the construction site, but they always provide power for large buildings. These machines will require significant investments in equipment and trailers to move them to each job site. If you need this size and power, you will know.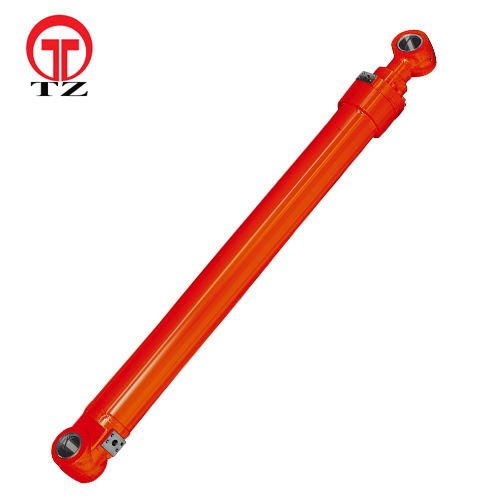 Hydraulic cylinder also main parts for quality excavators
A hydraulic cylinder is a tube that uses hydraulic pressure to produce linear drive. Meanwhile, it will include hydraulic boom cylinder, arm cylinder and bucket cylinder. Basically, the pressure of the hydraulic fluid forces the piston to move in a push or pull motion. Depending on the application and industry, hydraulic cylinders can be called hydraulic actuators or hydraulic pistons. The hydraulic cylinders are divided into single acting or double acting. If only one chamber is pressurized by hydraulic fluid, it is single acting, otherwise it is double acting.
Their great advantage is that they can be single acting hydraulic cylinders, double acting hydraulic cylinders or a combination of both. They are a variant of linear actuators with stages that operate in a straight line rather than a circle.
Telescopic cylinders
– Telescopic hydraulic cylinder is also called multi-stage cylinder. And they are commonly used in construction trucks, dump trucks, vehicle trailers, and agricultural equipment. The telescopic hydraulic cylinder is easy to operate, cost-effective, space saving, and can meet specific angle requirements.
Single acting hydraulic cylinder
– without a piston but with a large rod is called a plunger. These pistons work in exactly the same way as traditional single acting cylinders. However, they used large diameter rods in their design instead of pistons and piston seals. Therefore, instead of the piston, the plunger has a high pressure head end port. They also do not have any low pressure rod end ports.
As sincere recommandation, China crane boom cylinder supplier always provide quality china boom lift cylinder with lower price. After you read this article as lucky, then do not hesitate to choose the hydraulic boom cylinder products here.
How to maintenance about excavator undercarriage?
The excavator undercarriage of your heavy equipment may cause expensive maintenance costs. For optimal productivity and return on investment, you should maintain regular maintenance and avoid expensive repairs. First, avoid actions that may damage the landing gear, such as high-speed driving, excessive reversing, track slipping, etc.
The Equipment Manager should check the pins and bushings for wear due to insufficient lubrication. If not checked, it may cause the chain to stretch from the extended track pitch. You can also rotate these parts by rotating the bushing and flipping the track pin to make them rotate on the side that is most used. Properly, this extends the life of the landing gear.